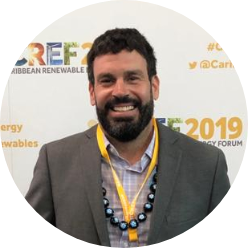 Gabriel Perez, Solrenew CEO
Gabriel began his career in the construction industry where he served as Project Manager for residential construction projects and founded a Company that provided inspection and punch lists services to various projects. His skills include project management, contract negotiation, contractor management, cost estimation, and government permitting.  He also served as Project Manager for a 16MW DC solar PV project in Salinas. The project was completed within budget and within the projected timeframe. The System has been operational since 2015.
Gabriel is a founding member of the renewable energy industry in Puerto Rico with over 12 years of experience. In addition, he has extensive business experience in various countries in Latin America, such as Mexico, Panama, Costa Rica, Colombia, Chile, and Argentina, among others where he has been regional sales manager of various renewable energy manufacturers.
In Puerto Rico, he served as Sales Manager of Nextility, a private equity group that funded commercial and industrial solar PV PPA's. Between 2014 and 2016 Gabriel executed over 30 commercial and industrial Power Purchase Agreement (PPA's) with an aggregate capacity in excess of 30MW. In this role, Gabriel managed the entire sales cycle from evaluating customer's energy needs, developing proposals, negotiating customer contracts, negotiating vendor contracts (including the Engineering, Procurement, and Construction (EPC) contracts), and negotiating interconnection agreements with PREPA.
Gabriel's education includes a Master of Business Administration in Finance at the Inter American University, Metro Campus, and a Bachelor of Business Degree in Accounting and Finance at the University of Puerto Rico, Mayaguez Campus.  He also completed a Degree in Renewable Energy and Electricity at the Liceo de Arte y Tecnologia. He is a certified electrician in Puerto Rico (license #12267) and, as such, may certify the installation of solar PV projects to PREPA.